Retreat to the Highlands, November 19-28, 2023
Come away with us to the Scottish Highlands!
Feel the ghosts of history and literature gather 'round as we nestle in near Loch Ness, tour tragic battlegrounds, castles, glens, and ancient sites, and journey O'er the Sea to Skye before landing, at last, in Edinburgh—writing as we go.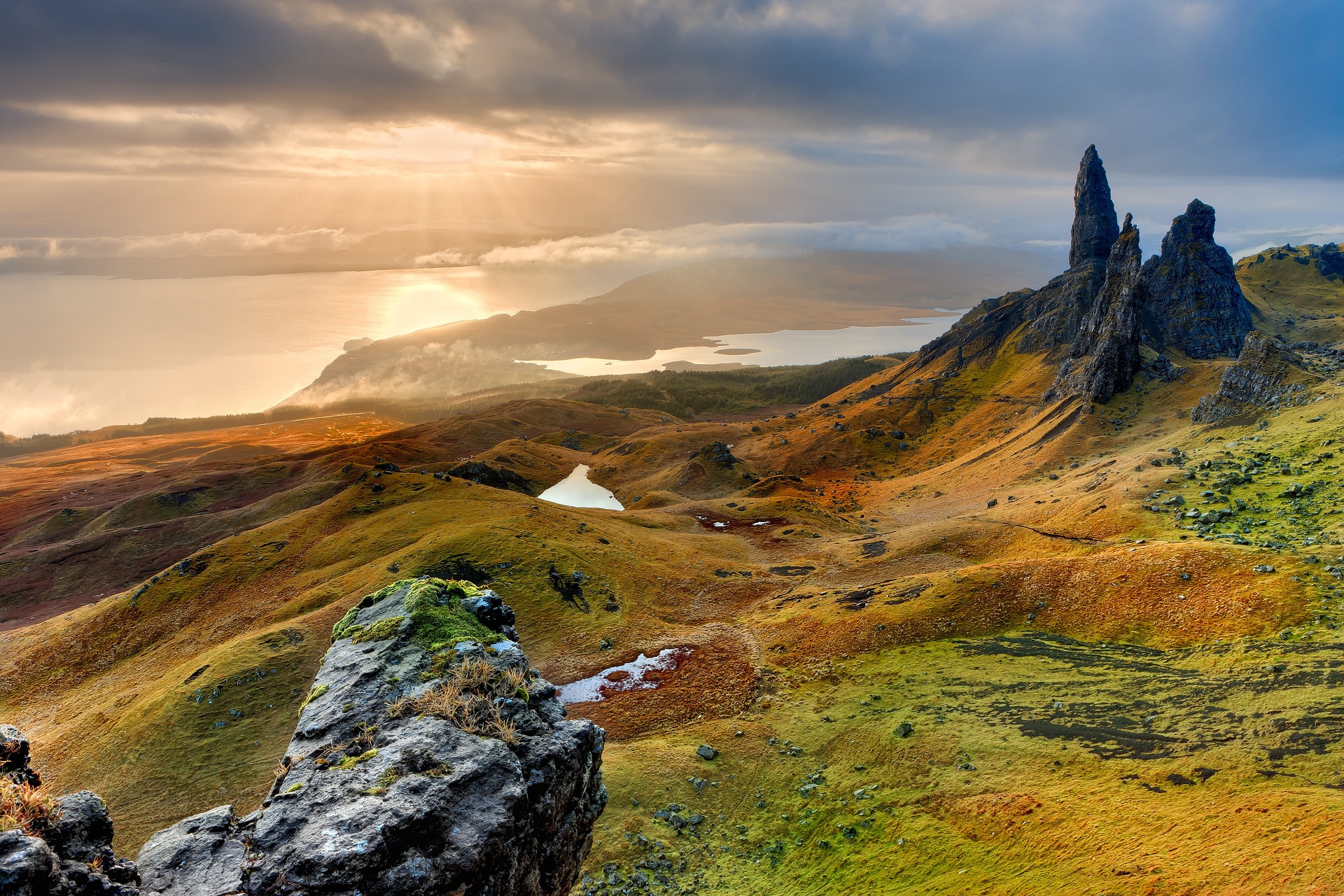 November is one of the best months to visit Scotland, when tourists are few and the fierce beauty of the Highlands puts on a wild display just for you. With an average temperature of 8-14 degrees Celsius (47-57 Fahrenheit) at that time of year, and plenty of striking, autumnal atmosphere, there's a sense of coziness and comfort when you've settled next to a roaring log fire with only your thoughts and your writing journal. And maybe a cuppa tea or wee dram with which to coorie (snuggle) in.
Costs start at $3,995 CAD per person (approx. $2,885 USD), taxes included. See below for details.
---
Join professional authors Dr. Gerard Collins and Janie Simpson this fall for a focused, 10-day writing retreat in the Scottish Highlands. We'll spend a seven nights—a full week at the stunning Loch Ness Country House Hotel, booked for our writers' exclusive use, followed by two nights at the Apex Grassmarket Hotel right in the Old Town heart of Edinburgh, the world's first UNESCO City of Literature.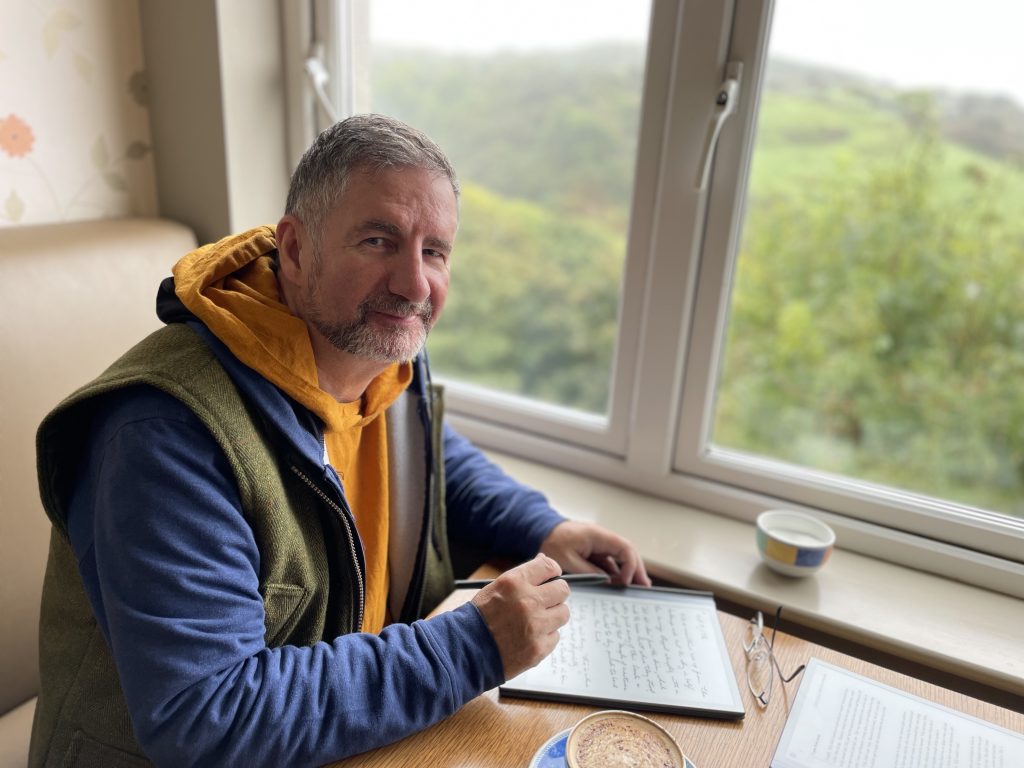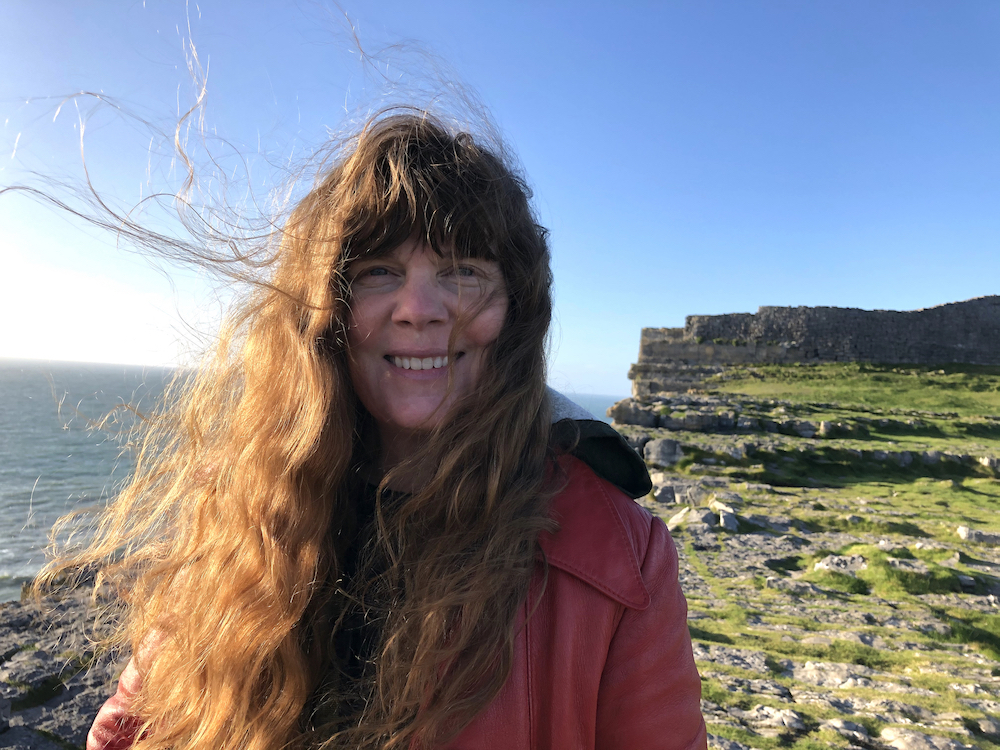 Away wi' ye
On our first day in Scotland, we'll meet our private coach at the Edinburgh airport mid-morning and journey together to The Loch Ness Country House Hotel in the Highlands, where we can clear our minds, relax, get to know each other, and do a LOT of writing.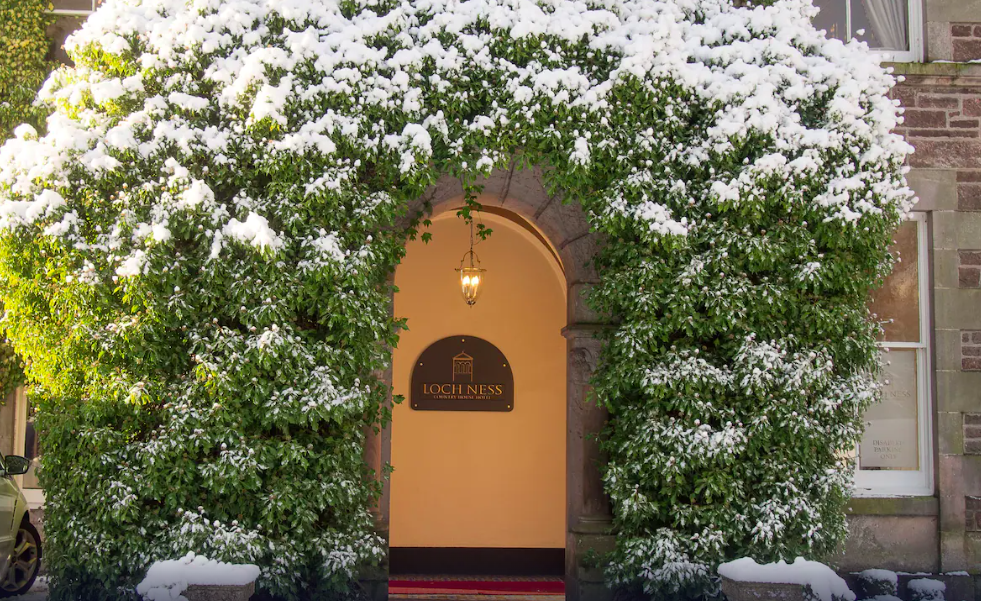 Along the way, we'll stretch our legs at Dunkeld—from the Scottish Gaelic Dùn Chailleann, "fort of the Caledonians"—a pretty town on the north bank of the River Tay, the longest river in Scotland, where you can choose to have lunch or wander the area. Then we'll resume our journey, taking a quick photo-op break at the striking Cairngorms Mountain Resort, before we finally arrive at Loch Ness Country House Hotel, our luxurious home for the week.
The grand folks at our exclusive country house in the Highlands will take good care of us—fires in the hearths, breakfast each morning and a healthy variety of fresh-made dinners each evening prepared by their AA Rosette award-winning restaurant.
There's plenty of space to stretch out and do some writing, reading, or daydreaming in silence on a fine, fall day. Imagine yourself in the Highlands, with no other expectations put upon you than to write to your heart's content, sit by the fire, eat and drink as you wish, and explore the most beautiful countryside imaginable on the hotel's seven acres of grounds.
Rooms at the Loch Ness Country House Hotel—upgrades available
All of the rooms at the hotel are lovely and tastefully decorated, in keeping with the beautiful Highland country house, and room service is available in all rooms.

We don't ask people to share rooms on Go and Write! retreats unless they wish to register as a double, and we don't pair strangers. As with all of our retreats, writers can register as individual participants or bring another adult to share their room and costs. This second person can also be a non-writing spouse/guest as well. We often have non-writers join us on retreats, and they're welcome to participate in as few or as many of the writing activities as they wish.

There are inexpensive room upgrades available at the Loch Ness Country House Hotel on a first-come, first-served basis for those who wish to have additional luxuries and space. We have incorporated some photos and general room descriptions from the hotel website below.
Loch Ness Classic Standard Room*
Full of charm, these twin and double rooms have been decorated in rich classic colours, providing a warm and textured feel—a nod to the original Georgian period of the hotel. These rooms also include large, en-suite marble bathrooms, with complimentary luxury Scottish toiletries and a bathrobe. A plasma TV and DVD player are also included.
*The base cost for your retreat includes one of these classic standard rooms.
Loch Ness Junior Suite
These striking suites offer the luxury of space to think, write, and relax. Classic and contemporary in style, with tones of carousel red, amber cream and rich cherry wood, you can enjoy the separate seating area overlooking the stunning gardens.
These suites feature large en-suite marble bathrooms and complimentary luxury Scottish toiletries and a bathrobe. The suites also include two plasma TV's, DVD player, and excellent in-room dining facilities.
Loch Ness Executive Suite
Enjoy an extra bit of luxury in the Executive Suite at Loch Ness Country House Hotel. This bright and spacious room overlooks the front gardens and features a King size, four-poster bed draped in luxurious sea green and cream linens. It also features a decadent chaise-lounge as well as a large, en-suite marble bathroom with complimentary luxury Scottish toiletries and a bathrobe. Excellent in-room dining facilities make for an intimate in-room evening dining experience if you want to stay focused on your writing.
Loch Ness Cottages
Beautifully decorated in a comfortable, contemporary style, these charming and character-filled cottages reflect the essence of a Highland escape. Set within the gardens, they offer every service and benefit of the main hotel building but with the addition of privacy and plenty of outdoor space.
Note: Even though there are two separate bedrooms in the cottages, if you choose a cottage upgrade, you will not be expected to share the space with anyone else; however, these cottages are ideal for friends, siblings, parent/adult child, etc. who want to share the space and retreat cost, including the cost of the upgrade. 
Garden Cottage One
Has two bedrooms with one double bed and two twin beds, a large living room complete with open log fire, and bathroom and bathrobes. Large plasma TV, DVD and CD player included. 
Garden COTTAGE Two
Has two bedrooms with one double bed and two twin beds. A small living room, bathroom and bathrobes, and TV, DVD and CD player included.
---
Things to do in the region
Inverness—escape to the Hub of the Highlands
Our retreat venue is about five minutes from the storied city of Inverness, close enough to catch a taxi ride into town for a day of walking about, shopping, having lunch or a wee dram while you do a little writing.
While you're in town, why not check out Leaky's book shop, which boasts a collection of rare and antiquarian books, or the Inverness Museum and Art Gallery and its collection of Pictish stones. And if you'd like to stay focused on literary experiences, you can also visit Inverness Castle, where Shakespeare's MacBeth killed King Duncan.
Highland Whisky 
The Highlands are by far the biggest whisky-producing region in Scotland, and our hotel is only a half hour away from two acclaimed distilleries: The Singleton of Glen Ord and Tomatin Highland Single Malt, the latter being recently awarded the 'Scotch Whisky Producer of the Year 2022' and 'Outstanding Spirits Producer of the Year 2022' by one of the world's leading drinks awards, International Wine and Spirit Competition. 
While we haven't included a distillery tour on our writing retreat, our hosts at Loch Ness Country House Hotel will be able to help you arrange a visit to a local distillery if you're interested. We often have couples join us on retreat, and a distillery tour makes a nice outing for a non-writing partner. 
Don't forget to write…
During our seven-night stay in the Highlands, you'll have two creative writing workshops, two one-on-one sessions with Gerard to talk about your own writing, individual writing prompts, and time to devote yourself to the craft. As well, you'll find yourself in the company of like-minded souls, some of whom have written only a little and others who've already published; and while there's never any pressure to write, you'll always find the encouragement to do so.
We'll host private group readings on some evenings throughout the retreat, where you'll have the opportunity to share your writing with your fellow participants, if you like—without pressure. 
---
Day Trips
We made our home base at Loch Ness Country House for good reason, as there's plenty to see and do nearby. While we'll be focused on writing while we're in the Highlands, we're, well, we're in the Highlands—so we absolutely need to do some exploring.
Day trip #1: Culloden Battlefield, Clava Cairns, Cawdor Tavern, and Urquhart Castle
Culloden
After we've settled at the hotel for a couple of days, we'll take visit to Culloden Battlefield, which marks the spot of the last major battle on British soil.
The wild moor at Culloden is the resting place of 1,500 Jacobite and 50 Government soldiers who fought and died here in 1746. Today, you can walk along the battle lines and see the graves of the soldiers beside the memorial cairn in the centre of the battlefield. We have secured a guided tour of the battlefield for our participants so we can get the most out of this experience.
Cawdor Tavern
How's that for a star-packed review? If it's fit for Tilda and her family, it certainly gets the Go and Write! green light… After our visit to the Culloden Battlefield, we'll bring you to the tavern named for Cawdor Castle, made famous by Shakespeare's Macbeth. We're on our own for lunch or a short stroll, here. 
Cawdor Tavern is situated in the conservation village of Cawdor, very near its namesake castle, and strives to be "a haven for locals and visitors alike to enjoy quality dining, fine malts, interesting ales, and an excellent wine selection." We like it because it's just a very cool Scottish pub, the kind of place you'd like to go and hang out for a while and get inspired. This particular place comes "highly recommended" by Donald MacNeil of MacNeil Coaches, our coach provider for the duration of our retreat. 
Clava Cairns
Fans of Outlander will recognize the 4,000-year old Clava Cairns as the stand-in stones for the fictional Craigh Na Dun, which play a pivotal role in the novel and TV series.
Besides the famous standing stones, Clava Cairns consists of three Bronze Age burial chambers which have survived the centuries, while two of the cairns feature a passageway that leads inward, with a noticeable drop in temperature as one reaches the centre. The third cairn was once used as a funeral pyre for cremation. The site contains a range of prehistoric burial monuments and the remains of a medieval chapel.
Urquhart Castle
Except for maybe Eilean Donan castle (which we'll also visit), it doesn't get much more dramatic in appearance than the ruins of Urquhart Castle, overlooking the famous Loch Ness—be sure to click on the hyperlink to read more about this castle's deep history before we go.
Believe what you will about the existence of the famous creature of the Loch, the castle itself is spectacular, with a thousand-year-old story. Around the year 580, St. Columba left his home on the Isle of Iona to work miracles here, and "acts of chivalry and defiance provided inspiration" during the Wars of Independence and where the MacDonald Lords of the Isles struggled with the Crown for power, according to Visit Scotland.  
Day trip #2: "O'er the Sea to Skye"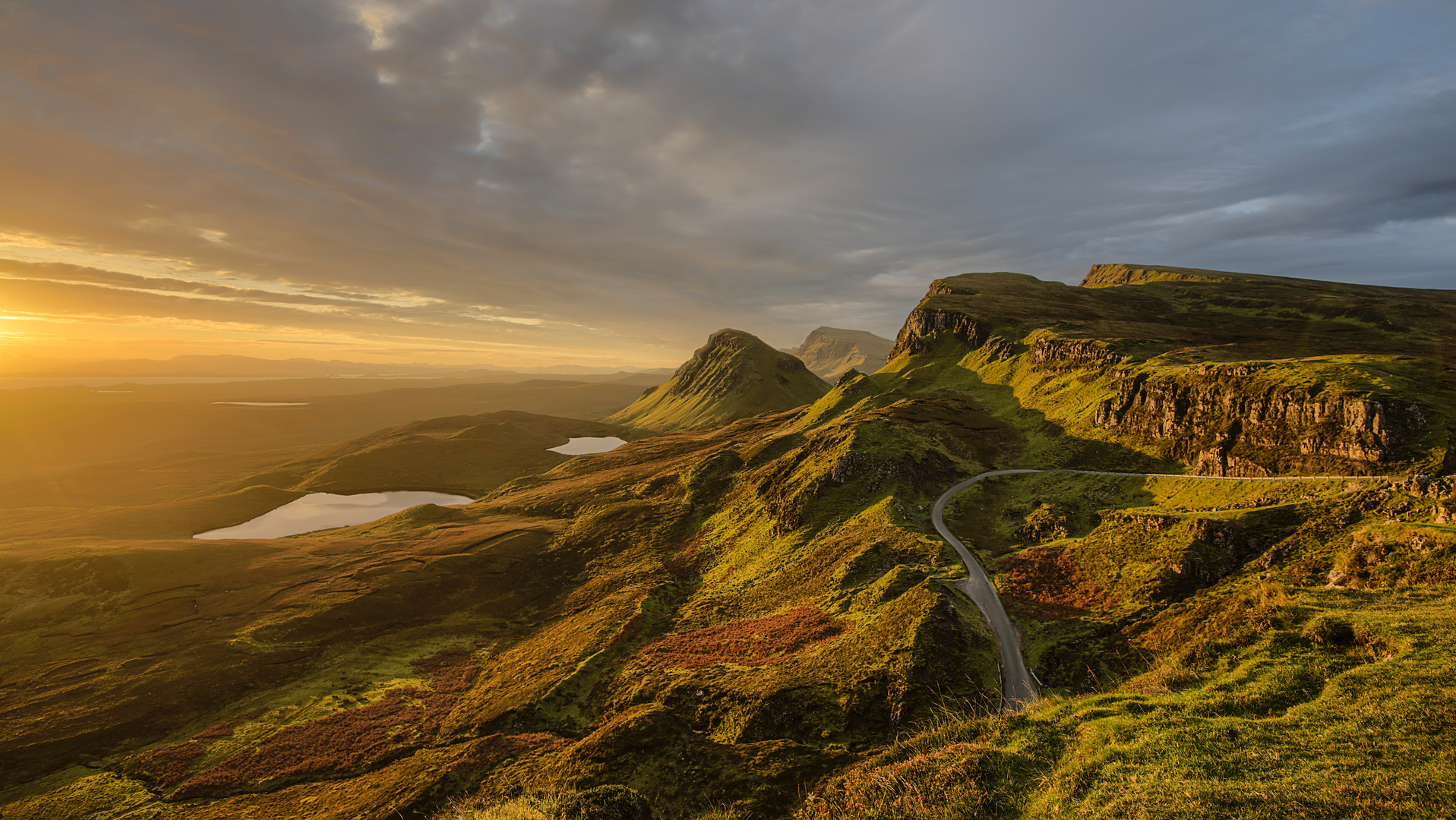 No trip to the Highlands is complete without heeding the call to Skye, the largest and most northerly of the Inner Hebrides islands of Scotland. The isle, whose name origins remain a mystery, is quintessential Scotland and, thanks to the famous song—made even more famous as the opening theme for Outlander—it's the place that comes to mind for many when they picture Scotland. Here are two of our favourite versions of the classic, one with Griogair Labhruidh singing in Gaelic, and the other featuring Sinead O'Connor.
Eilean Donan Castle
Our friendly coach driver will stop at Eilean Donan Castle (pronounced AY-lin DOH-nun), easily the most famous and most spectacular of all the highland castles, so we can appreciate the moment and allow for photographs of this magnificent structure. Then it's on to Portree, the capital of Skye, were we'll stop for lunch or a quick walkabout.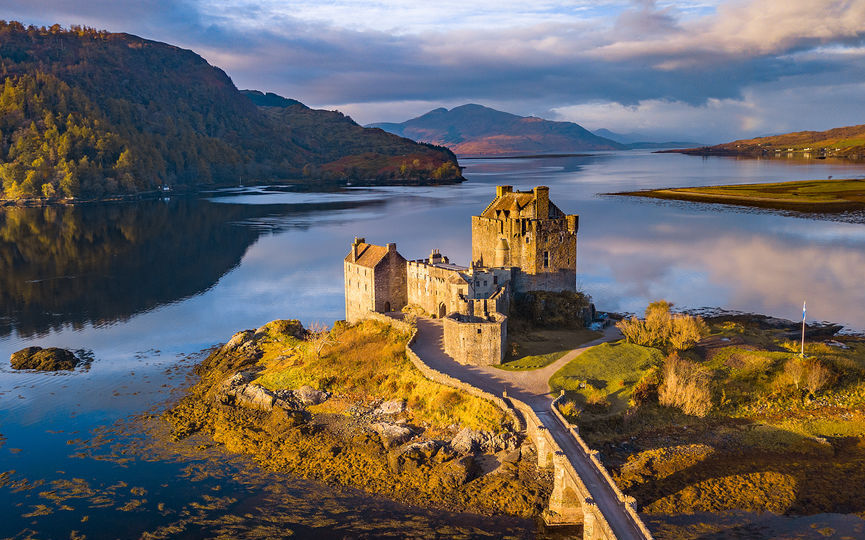 After that, we'll venture on to see the Old Man Of Storr (a landmark for sailors), Lealt Falls, Kilt Rock, and The Quiraing before returning to Loch Ness Country House Hotel. While it's undoubtedly a trek to get there, if you're the kind of person—as we are—that has always felt the call of Skye, it's worth the journey. And while we couldn't possibly see everything, we're choosing the places that will give us the Skye experience we all crave.
---
Goodbye to the Highlands
On our eighth day in Scotland, we'll say mar sin leat (goodbye, pronounced mar-shin-laht) to Loch Ness Country House and the Highlands, and board our private coach to travel in comfort toward Edinburgh.
Along the way, we'll visit Glencoe, one of the most awe-inspiring places on earth, and also one of the most tragic. The breath-taking mountains of Glencoe were used in the opening scenes of Outlander and for the outdoor scenes of Ardsmuir Prison, and were also the site of the bloodiest massacre in Scottish history.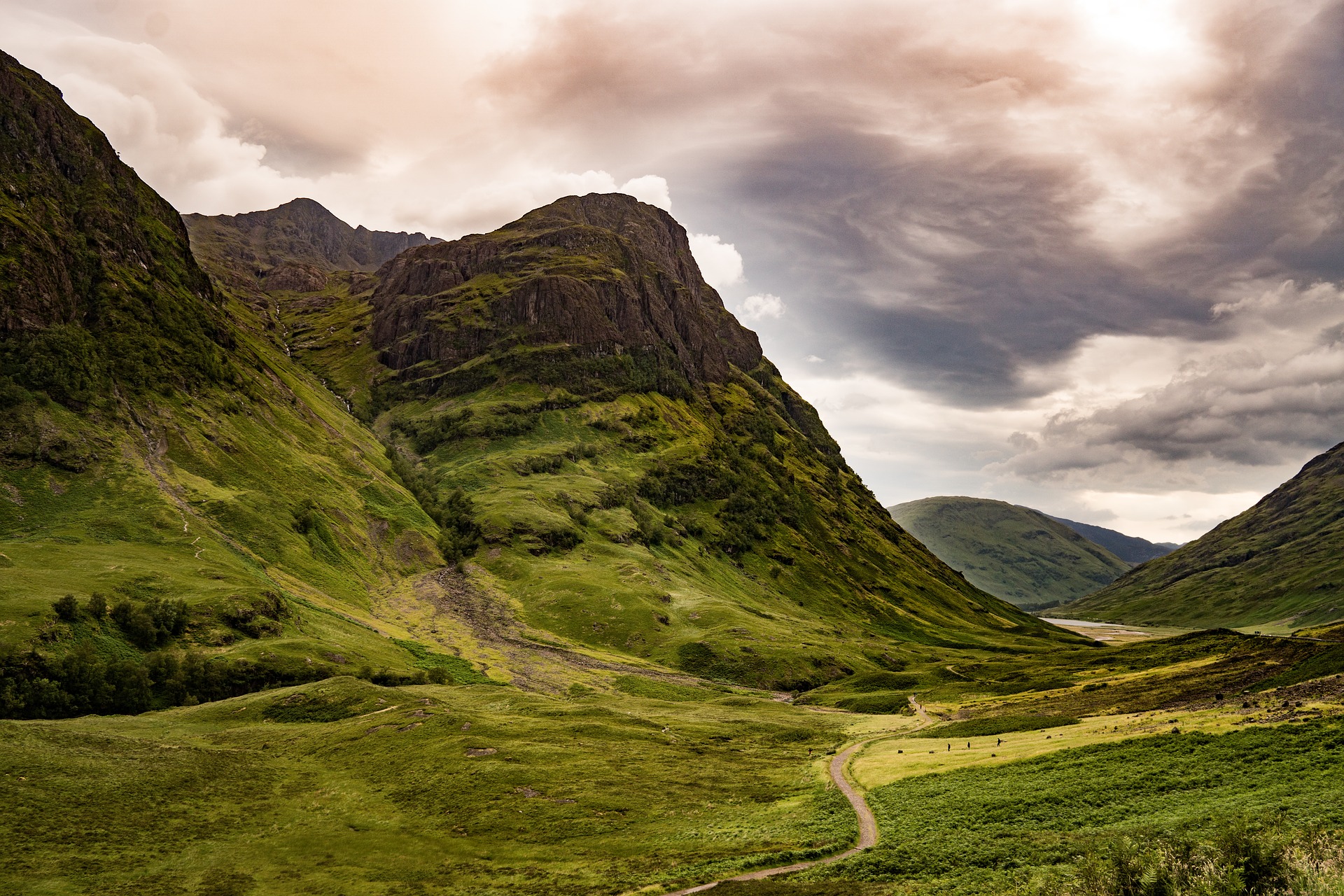 Beauty and tragedy, even raw savagery, play a huge role in the history of the Highlands and, aye, in the history of humanity itself. The massacre at Glencoe both challenges the heart and stirs the imagination, just as tragedy in life forms who we are and incites creativity.
In the words of Neil Gaiman, who sought the solitude of Skye during the recent pandemic: when life hands you  sorrow, "Make good art." So, let the harrowing sadness of history seep into your bones for this one day, and take notes, for there is where you will find your greatest art. In the years to come, you can return in your mind—through your notes, journals, and photographs—to the places like Glencoe that inspire you.
EDINBURGH
Edinburgh is a traveler's dream, especially if you're a writer. We've chosen a lovely place for our two night stay in the Old Town: the Apex Grassmarket Hotel, which has a swimming pool and gym, and where your room has already been upgraded to a castle view, at no cost to you.
Edinburgh is a grand, multi-faceted city with tremendous history, so we've chosen to stay in a spot that gives you access to as much of that history, art, and gothic glory, as well as pubs and restaurants, as possible—all of it within a few minutes' walk so you can make the most of your time there. Just outside our hotel, you'll find yourself immersed in the Grassmarket area, formed around the 1300s, and moments away from the famous Royal Mile. The videos below give a great overview of both locales.
You'll also find pubs like The White Hart Inn—​Edinburgh's oldest pub, established in 1516, with ties to Robbie Burns, whose poetry can be found written on beams in the pub—just across the street from your hotel room.
On our first morning in Edinburgh, we've booked a private Book Lovers' Tour guided by famed historian Allan Foster. We'll visit  the sites and haunts of Edinburgh's literary legends: Robert Burns, Sir Walter Scott, Robert Louis Stevenson, Sir Arthur Conan Doyle. J.M. Barrie, Alexander McCall-Smith, Ian Rankin, J.K. Rowling and others, before being set loose for the day, inspired by the greats.
We recommend you spend the rest of the day exploring, writing, and doing whatever you want. You'll be surrounded by pubs, restaurants and cafés, shops both wee and huge, The Writers' Museum, The National Edinburgh museum, St. Giles Cathedral, and the Festival Theatre and Scottish Storytelling Centre.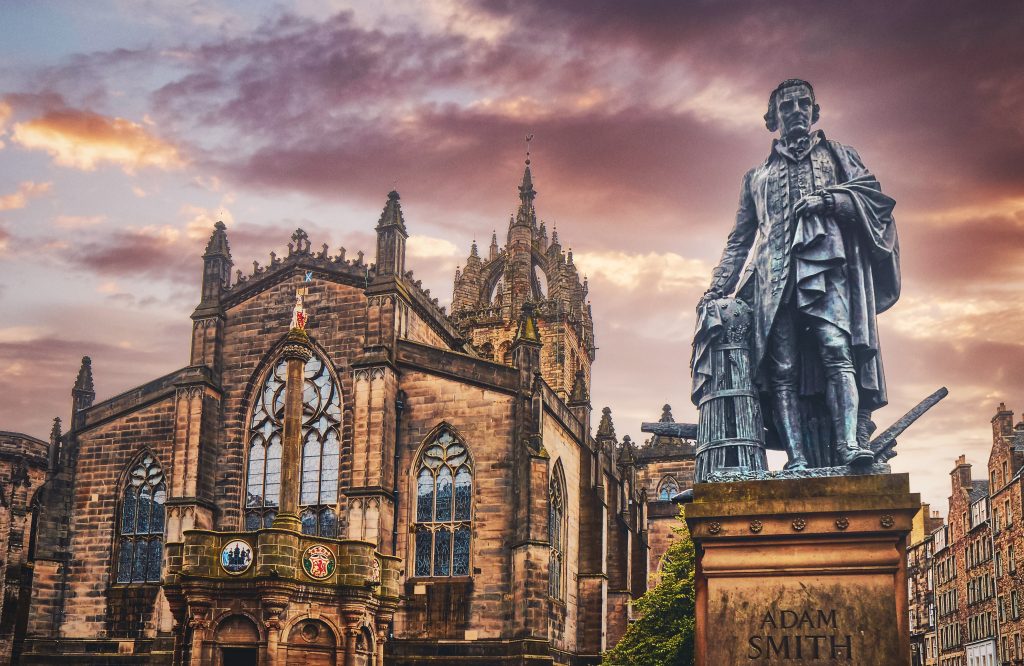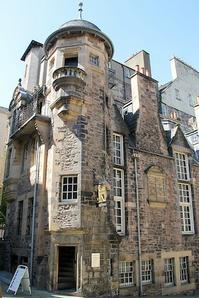 There are also green spaces like The Meadows and Princes Street Gardens as well, and coffee-houses like Summerhall Café and the famous Elephant House, where a young J.K. Rowling is reputed to have written some of the Harry Potter series of books. The coffee house suffered a fire and it's unclear when—or if—it will reopen, but there is still fascinating information about it here. Even if it's still closed when we get there (though we hope it isn't), you can still feel a certain thrill of wonderment just standing in the spot where creativity swept a young single mother away to an imaginary Hogwarts, in the full shadow of Edinburgh Castle. That realization alone might be worth a selfie or two, and a toast at a nearby pub.
And don't forget that Diana Gabaldon's Outlander series was also filmed here, in part. You can book a guided walking tour that includes visits to "Jamie's Print Shop" and the World's End Pub, so named because, in the 16th century Edinburgh was a walled city with the gates to the city just outside the pub. To the people of Edinburgh back then, their world ended at those gates where the pub now stands.


With more than 50 bookshops, Edinburgh is a great home base for a couple of days, especially for writers. We highly recommend that you book a tour of Edinburgh Castle or Holyrood House, the new King Charles' official residence in Scotland and the place Mary, Queen of Scots and Bonny Prince Charlie once called home. If you're looking for other literary inspiration while we're in Auld Reekie, here's a link that sets out several ideas to get your literary juices flowing.
Later that evening, we'll gather back at the Apex for our goodbye supper. It's always nice to have a final meal together, relax and enjoy a few readings, if both the flesh and spirits are willing. We'll toast a fond fare-thee-well to this majestic country that, undoubtedly, will have provided us with memories and good friends for the rest of our days.
Join us on our next adventure.
This 10-day Retreat to the Highlands is designed to satisfy both your desire for adventure and your need to find time to write with as much—or as little—guidance or prompting as you want. Some of our travellers aren't writers at all, though they often travel with writers. The vast majority, though, are writers of various genres, including novelists and playwrights, screenwriters, memoirists, and poets, and are at various stages of their writing life. We get as many new or emerging writers as we get established writers who simply need time away from the daily grind to refresh their souls or kickstart their writing.
You'll travel in the company of like-minded souls, some of whom have written only a little and others who have published extensively. Go and Write! travellers, including non-writing folk, often have a tough time choosing their favourite part of our retreats, but the lasting friendships and memorable moments that could only happen when a bunch of writers go traveling together top most lists.
What's included on your Go and Write! adventure:
Go!
7 nights at the Loch Ness Country House Hotel in Inverness
7 breakfasts and 8 suppers
2 nights at The Apex Grassmarket Hotel in Edinburgh
Stop in the village of Dunkeld
Day trip #1

Culloden Battlefield with guided tour and entry into Visitors' Centre
Clava Cairns standing stones
Urquhart Castle with entry fee
Stop at Cawdor Tavern

Day trip #2

Eilean Donan Castle photo stop
Isle of Skye with visits to Old Man Of Storr, Lealt Falls, Kilt Rock, and the Quiraing
Stop in Portree

Visit to Glencoe
Guided Book Lovers Tour of Edinburgh with historian Allan Foster
Land transfers provided by MacNeil Coaches, awarded the International Safe Travels Accreditation from the World Travel & Tourism Council
Write!
Two writing workshops
Two one-on-one meetings with Dr. Gerard Collins, writer-in-residence
Professional, honest, and thoughtful commentary on your pre-submitted writing sample from an award-winning author and university educator—helpful regardless of your writing level
Personalized writing prompts based on your writing submission
Access to writer-in-residence throughout the retreat
The company of other writers
Group readings
Ample time and opportunity for writing, idea-gathering, and solitude
---
Cost
Numbers will be limited to approximately 16 people on this writing retreat to allow for a more intimate, connected, and focused experience.
Double: $3,995 CAD per person (approx. $2,885 USD), taxes included
Single: $5,495 CAD per person (approx. $3,970 USD), taxes included
Cost are based on an upgraded room at the Apex Grassmarket Hotel (complimentary) and a Classic Standard Room at the Loch Ness Country House Hotel; rooms are allocated on first-come/first-served basis.
Upgrades available for the Loch Ness Country House Hotel:
Junior Suite upgrade: add $250 CAD total, including tax, for the seven-night stay
Executive Suite upgrade: add $350 CAD total, including tax, for the seven-night stay
Cottage Two upgrade: add $400 CAD total, including tax, for the seven-night stay
Cottage One with log fireplace and larger living space upgrade: add $500 CAD total, including tax, for the seven-night stay
Contact us for more information and to reserve your space. We're also happy to have a virtual meeting on Zoom so you can get a feel for how we—and our retreats—operate. 
Contact Us
Airfare is not included and travellers are responsible for arranging their own flights. 
Costs are in Canadian dollars, taxes included, land only. We have estimated US prices for US customers' convenience only—the prices are based on conversions made with the information we had on-hand at the time and are non-binding.
A non-refundable deposit of $1,200 CAD per person is due when you reserve your space. Final payment is due August 18, 2023.
Note: Rates shown do not include credit card or PayPal fees. The credit card processing charges 2.9% per transaction, and PayPal charges 2.9% for Canadians and 3.7% for Americans; for those paying by credit card or PayPal, we will have to add this fee, and the fee is non-refundable due to new rules imposed by the providers on March 1, 2023.
For Canadians, we're able to offer an e-transfer option to save you bank processing fees. For registrants from the US and overseas, we also accept international bank transfers; please research the processing fees charged by your bank as you're responsible to pay those fees. Contact us for more information.
A few notes
You may be required to climb stairs at certain points during the retreat.
Travel cancellation, interruption, and health insurance is highly recommended.
A valid passport is required—you could be turned away at the airport if your passport is within a few months of expiry, so be sure to check your passport expiry date against what Ireland will allow. This almost happened to us—it was only by the grace of the attendant that we were allowed to board the plane!
Travellers are responsible to research the implications of COVID-19 on travel restrictions at home and abroad before and at the time of travel. Ensure you have everything you need so you aren't turned away from establishments or airports.
All participants are required to review our Expectations, Rules and Refunds page and acknowledge agreement with the contents before registering for a Go and Write! retreat.