London, Actually… and the Cotswolds
March 18-28, 2023 or April 10-20, 2023

There are only 3 rooms left for our April retreat – see below for details, or contact us for more information.
"O, wind, if winter comes, can spring be far behind?"
When the English Romantic poet, Percy Bysshe Shelley, wrote that line, he expressed the eternal optimism of the human spirit, that spark of hope that keeps us leaning forward to the next great adventure in our lives. For us, that next adventure is England, homeland of a slew of the world's greatest writers.
There must be something transcendent in that pastoral landscape, particularly after a dreary, snowless winter, perhaps the inevitable tug towards the rabbit's warren that is London, that inspires a quest for creative greatness.
How else to explain a nation of Chaucer, Shakespeare, Austen, Dickens, Byron, Shelley, Brontë, Woolf, Pratchett, Fleming, Milne, Larkin, and Barnes? The literary history of England is rich and deep enough to fill this entire page with the names of authors whose works have touched our souls, even formed our lives and left us, like Prometheus, reaching for that which has always burned within us and remained hidden, unreachable, even transcendent.
For the first time, we're taking Go and Write! to England on an adventure to awaken our creative souls. Join us from March 18-28, 2023 or April 10-20, 2023 for an intimate writing retreat that sweeps you from venerable London to the iconic Cotswolds: a perfect combo to be inspired by greatness and reconnect with your literary self.
With only eight rooms available for participants at the gorgeous Abbots Grange, space is quite limited on this 11-day retreat—all the better to bask in the quiet of the Cotswolds, to listen to birdsong intertwined with the thrumming of your heart, the bleating of lambs above the scratch of your pen on paper.
We've chosen these times—the end of March and mid-April, less than two weeks apart—so we can enjoy the blooming warmth of spring and the quiet of the village before the tourist season is in full swing. The Cotswolds region of England, through the centuries, has always attracted artists and writers, and it still does. To experience its unassuming beauty at a quiet time will afford us the opportunity to enjoy it as a writer should.
Costs start at $4,995 CAD. See below for details.
---
"Not all who wander are lost."
Go and Write! with Dr. Gerard Collins and Janie Simpson
"I am beginning to reflect on the joy the trip has brought me… The tenderness and care you showed us was so evident in the choices of lodging, the comfortable bus rides, and the knowledgeable guides. It was your day-to-day presence, while checking on all of us, that was especially meaningful. I am not certain I can explain the impact, but I feel it has awakened a longing in me and an understanding of something deeper that was not previously there."
~ Ann K., Go and Write! alumnus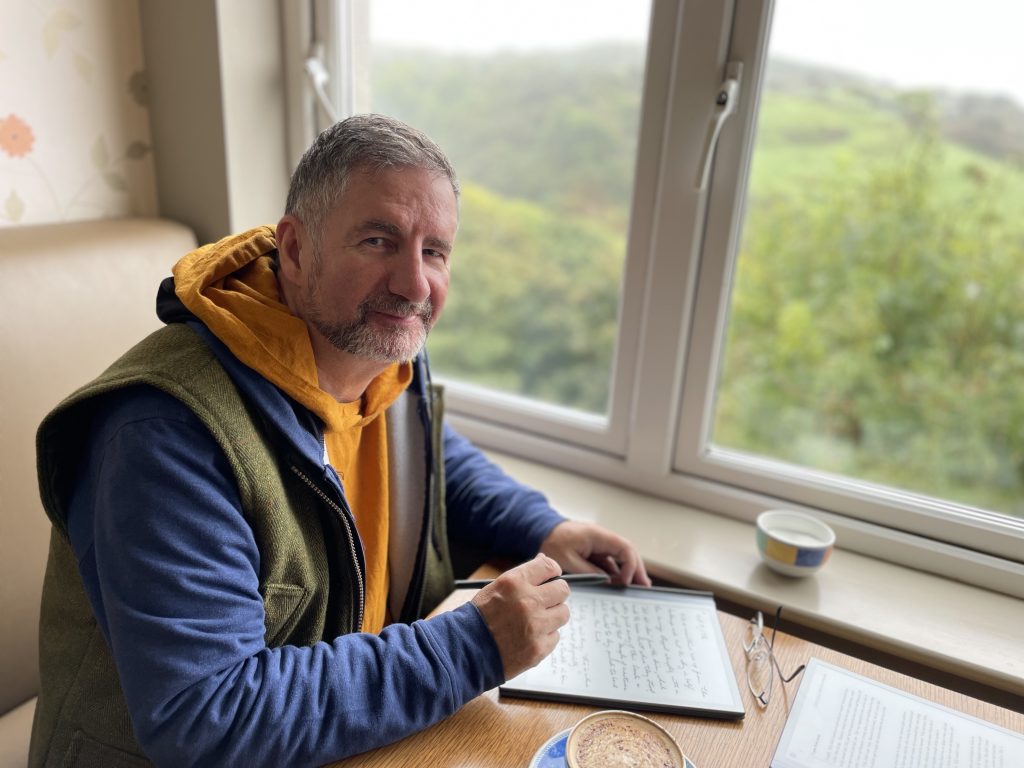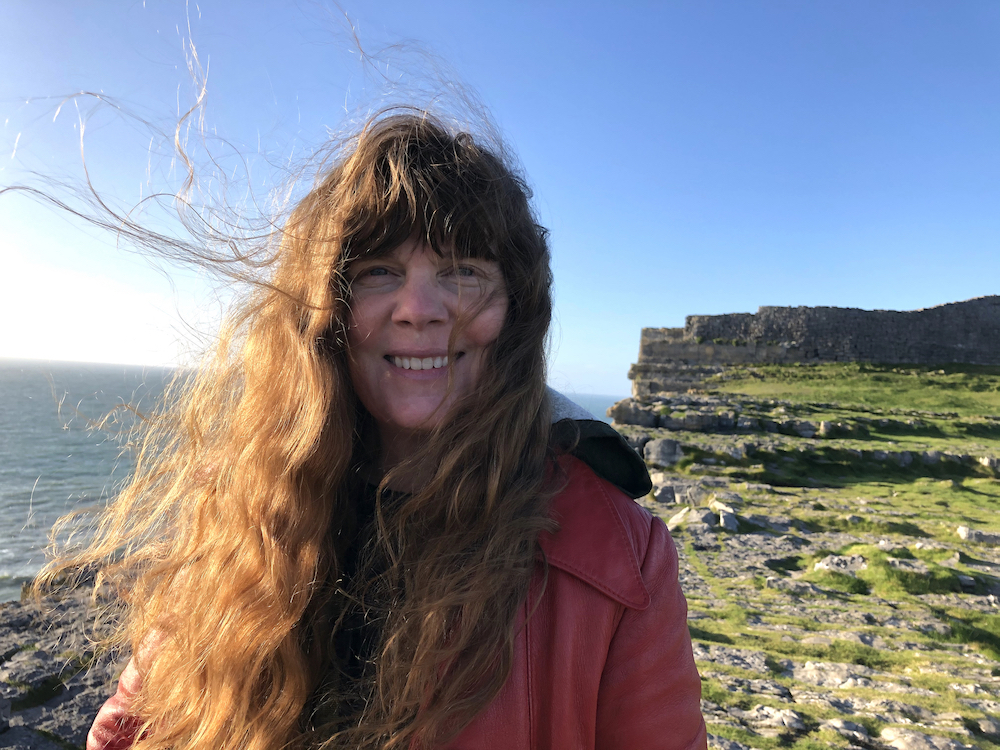 ---
London, Actually
"I think England is the very place for a fluent and fiery writer."
~ Dylan Thomas, Welsh poet
Just as the first swallows of spring alight, before the shops and pubs teem with visitors, we'll arrive in the land of Shakespeare, Austen, Tolkien, and Dickens, not to mention the world of Harry Potter, Sherlock Holmes, Monty Python, the Beatles, and Bridget Jones. At nearly every turn on the ancient cobblestone streets of London, you'll find a plethora of people, places, and smaller personal moments to write about.
Be sure to bring a journal and your favourite writing implements on your travels, for you'll surely be drawn to some pub or café where great writers have tread. With any luck, you'll find a fireside table to sip a pint, philosophize, and get some thoughts down. We highly recommend The Dickens Inn, as well as Ye Olde Cheshire Cheese, a medieval pub that was rebuilt in 1667 after the Great Fire of the previous year. The site was part of a thirteenth-century monastery, and a pub has stood here since 1538.
Over the past 355 years, "The Cheese", as it's affectionately known among locals, has been frequented by such literary figures as Samuel Johnson, Mark Twain, Alfred Lord Tennyson, W.B. Yeats, George Orwell, Alexander Pope, and Charles Dickens, who even featured it in his novel A Tale of Two Cities. In fact, Dr. Samuel Johnson, the author of the modern dictionary, lived a few steps away, and his chair is in the pub. You can visit Johnson's house when you visit The Cheese.
"If you knew Time as well as I do," said the Hatter, "you wouldn't talk about wasting it."
~ Lewis Carroll, Alice's Adventures in Wonderland
The Mad Hatter Hotel
When we came across The Mad Hatter Hotel in London, we knew we'd found our spot where a writer could feel like a writer—where your imagination can take flight while you soulfully connect with great writers of the past. The Mad Hatter is named, of course, for that unforgettable agent of chaos and peculiar wisdom in Lewis Carroll's Alice's Adventures in Wonderland. We had a grand time seeking out the Alice-related images that were painted on the walls, ceilings, and windows.
We'll meet at The Mad Hatter's pub for supper on our first night, and then we'll spend our first few days getting acclimated and acquainted with each other. You'll have your first one-on-one session with experienced mentor, university professor of English language and literature, and award-winning author Dr. Gerard Collins at the same downstairs pub. Enjoy a pint or a snack and cuppa tea while discussing your writing with someone who's truly invested in listening and offering words of encouragement or advice as required.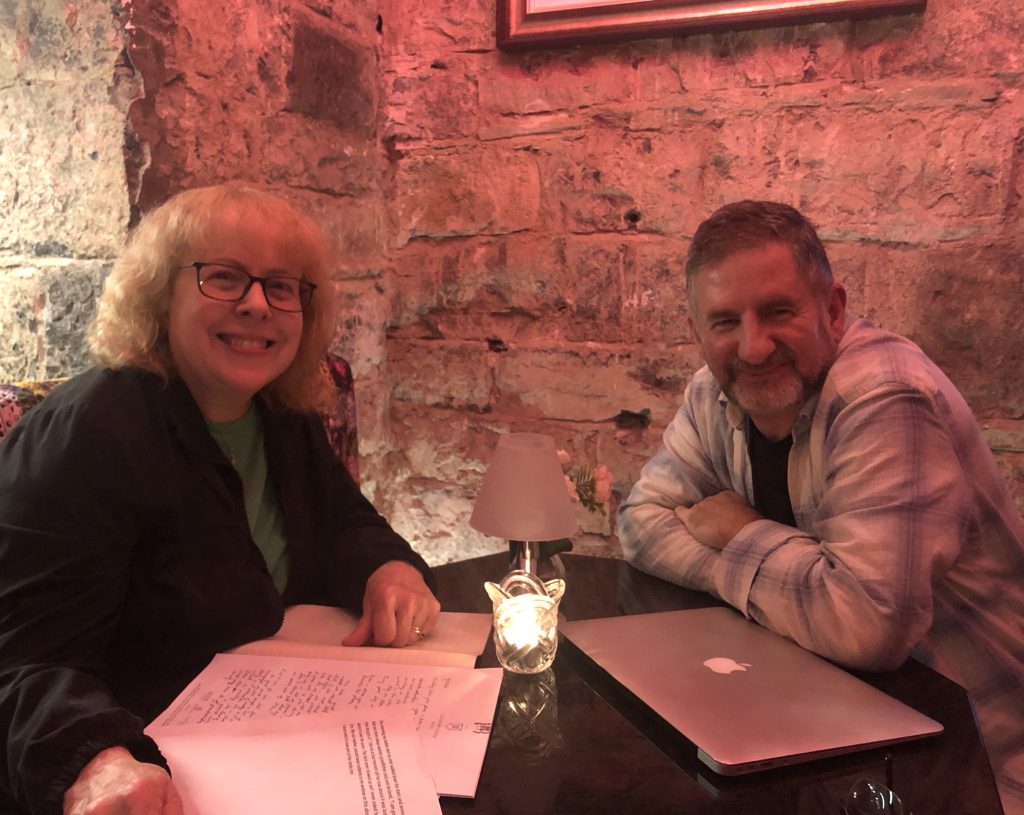 If you're an emerging writer hoping to see your work in print someday soon, Gerard will talk with you about any part of writing and publishing you might want. The ten-page writing sample you'll have submitted before the retreat will form the foundation for this discussion, assuming you choose to avail of this opportunity.
If you're a published author—like many on our Go and Write! adventures—you'll find the empathetic ear and keen eye of a peer with years of experience. No matter how long you've been writing or how much you've published, the keys to getting the most out of a retreat are mutual respect and dedication to writing.
London, of course, is a mecca of the arts. There's hardly a famous author or artist who hasn't visited London, while many spend their lives coming and going, yearning for its vibrant culture. There'll be a hearty English breakfast together at The Mad Hatter pub each morning before we each head out to explore the old city and get the creative juices flowing. Remember to bring your journal or laptop—something upon which to scribble now and then.
Centrally located, our hotel is just a three-minute walk from the River Thames that has for centuries stood as the heartbeat of London, and just ten minutes from the Shakespeare's Globe theatre and its companion Sam Wanamaker Playhouse, London's only candlelit theatre, where you can revel in some of the most magnificent theatrical performances around. There's also the National Theatre, where you can check out what's onstage and The Tate Modern which houses some of the world's most amazing art.
If you're feeling adventuresome—and, likely, you will—the Southwark subway station is just five minutes' walk from The Mad Hatter Hotel; from there, you can explore London to your heart's content. There's more to England than its plethora of great writers. It's also the land of kings and queens, the Beatles, Paddington Bear, most of whom you can see at Madame Tussaud's. We could go on: Bond. James Bond. Okay, he's fictional. But there's also The Who. Jane Austen. Bangers and mash. Fish 'n chips. Sherlock freakin' Holmes (also fictional), and there's his house still standing at 221B Baker Street, a short taxi ride away from where a very real Charles Dickens used to live with his wife and son at 48 Doughty Street, both of which you can visit and even go inside for a walkabout.
If English history is your cup of tea, we highly recommend The Tower of London where ravens still rule and where Anne Boleyn was imprisoned, executed, and buried by a spiteful King Henry the Eighth. There's also Westminster Abbey, where you can visit The Coronation Chair of Queen Elizabeth II—as it soon will be for King Charles III and each of their predecessors for seven centuries—the oldest piece of furniture in England still used for its original purpose. You might also check out Poets' Corner where hundreds of poets and writers are buried and/or memorialized. Or you can just stand in an English garden, sipping tea, waiting for the sun… or the rain. All literary roads lead to London, it seems.
As Samuel Johnson has said, "By seeing London, I have seen as much of life as the world can show." There is an endless list of things you could do in London, including a visit to Buckingham Palace or the venerable St. Paul's Cathedral where royalty has been both married and buried, or you might take a Harry Potter tour, or just walk those very old streets, and sit in those ancient pubs and public spaces.
Literary Walking Tour
Part of our London stay, in fact, will include a literary walking tour, but itineraries aside, we try not to schedule too much of your adventure. You'll want to see and do the things that matter most to you, and while there'll certainly be common ground, it won't be the same for everyone. So, while there's a healthy amount of social time throughout our English retreat, we also leave plenty of time for you to engage in your own way and to make time for writing as you go. Also, we encourage—and provide—alone time, because that's when words get written.
---
The Cotswolds
"Think of England as a very large book, and the Cotswolds would be an unfussy chapter in the middle somewhere where there is lots of limestone and even more sheep."
~ Susan Meissner, American author of A Charmed Life
On the fifth day of our adventure in England, we'll whisk you away on our private coach to Abbott's Grange in the Cotswolds. Along the way, we'll stop for lunch at Oxford, a place so other-worldly it inspired W.B. Yeats to muse, "I wonder anybody does anything at Oxford but dream and remember, the place is so beautiful. One almost expects the people to sing instead of speaking." There are too many literary associations to name in Oxford, from Lewis Carroll to C.S. Lewis and J.R.R. Tolkien and, of course, Evelyn Waugh, as well as the university where scenes from Harry Potter were filmed. To that end, you'll have the option of taking a group tour that includes many significant literary places, including the Bodleian library and other sources of inspiration, or finding your own way around Oxford at your leisure.
Famous for its ancient, unspoiled beauty, the Cotswolds have clear and strong connections with many authors: Jane Austen, Lewis Carroll, Beatrix Potter, J.R.R. Tolkien, and T.S. Eliot, among many others, have found inspiration and respite in this idyllic region. The point here, of course, as with all such lists, is that you might find yourself in tune with the spirit, not only of these famous authors, but of the place itself. Whether London, the Mad Hatter Hotel, the Cotswolds, Broadway, or Abbots Grange, one might well anticipate that if so many have come here before for inspiration, so might you.
Abbots Grange
Once you enter the magnificent halls of Abbots Grange, you'll immediately understand why we chose this out-of-the-way venue for the main portion of our writing retreat. For five nights and six days, we'll call this luxurious, private space, home. You'll have a cozy and gorgeous room, and we'll have workshops, chats, and quiet writing time in The Great Hall, with its exquisite décor and roaring fireplace, perhaps with a glass of wine or whatever you please.
We've had the privilege of experiencing this space ourselves, and it's an inspiring and soothing place in which to imagine, write, and relax. We also spoke with a local taxi driver who recommended mid-March and April as the best times to visit due to the warmth, blooming flowers, and low number of tourists.
After the hustle and bustle of London, Abbots Grange will replenish your soul, and with the luxury of several days here, we will truly be able to settle in. A former monastery where famous artists and authors have gathered for centuries, Abbots Grange is just a short stroll from the lovely village of Broadway, and both the venue and the village are naturally quiet and creative spaces.
The history of Abbots Grange runs pretty deep. Mark Twain, Oscar Wilde, Henry James, and Claude Monet all contribute to the lore of this place, while the stories of William Morris and Frank Millet are intertwined with the narrative of the Grange. Built in 1320 as a summer home for the Abbot of Pershore, Abbots Grange is the oldest dwelling in Broadway and boasts unobstructed views of the Cotswold hills. In 2017, the Eviivo Awards, which celebrate independent hotels in the UK, named it "the best B&B in Britain".
Abbots Grange also offers the use of private gardens and grounds that overlook the Cotswold countryside with croquet lawn and tennis court for exclusive use. There are rose gardens, specimen trees, and outside seating areas, as well as a summerhouse, which might provide a good spot for curling up with a good book or a moment of solace, and it's open to Go and Write! guests all during our stay.
Each morning, we'll gather in the rich, wood-panelled dining room for a full English breakfast from locally-sourced, fresh produce, and set the tone for a day of writing with conversation about the craft, publishing, and matters that matter to us.
Gerard will offer two workshops during our stay at Abbots Grange, and, because this retreat has fewer participants than normal, he will also be able to meet with each writer for a second one-on-one discussion to check in with you about your writing. There will also be readings of our work several evenings throughout the retreat, for those who feel like sharing something they've written.
While we envision this retreat to be creative and inspirational, it's our close proximity to the beautiful, small village of Broadway that makes it the ideal location: "Nestled in the lea of Broadway hill and standing in a little over eight acres of parkland grounds…, Abbots Grange is only a two minutes' walk from Broadway's 'picture perfect' village High Street with its delightful array of independent boutique shops, inns and restaurants."
We can personally attest that Broadway Village, with its delightful variety of boutique shops, inns, and restaurants, is an ideal place to roam for a while as you work out an idea or seek distraction. As the town website says, "The pretty High Street is lined with horse chestnut trees and includes a mixture of period houses and picturesque honey-coloured Cotswold stone cottages which have lured visitors for centuries." We're quite sure those same qualities will have you enthralled as well.
You'll find plenty of shops along High Street, along with interesting places to visit, and, of course, myriad pubs, cafés, and restaurants where you'll find great food and libations, as well as a cozy corner to ponder, take notes, and write.
With your appetite sated, there are plenty of things to do, from an activity park and picnic area—beside the Horse and Hound pub, which sits adjacent to a museum. In addition, there's horse riding, spirit tasting, golf, guided walking tours, yoga, and a plethora of other options, including hiring an e-bike to see more of the surrounding area.
Broadway Village was originally centred around the old church, St. Eadburgha's, and the stream at Bury End (records from the 9th century) and is recorded in more detail in the Domesday Book of 1086. High Street, or the "broad way," after which the village is named, grew as the centre of the village gradually expanded northwards to its present location. The coaching route opened up in the 1500s, and Broadway became a busy stage coach stop on the route from Worcester to Oxford and London. A number of inns were built to accommodate travelers, including many authors and artists who have walked these roads and stopped in these same places, such as Abbotts Grange, which, itself, has hosted many esteemed personages over the years.
For a better idea of where we'll be immersed for six days on our retreat, have a look at this  charming, well-made video about Broadway Village. There's prominent mention of Abbotts Grange. Having spent time in Broadway for a few nights recently, ourselves, we can say without hesitation that, for as beautiful and peaceful as he makes it look, the reality is far better – and Abbotts Grange itself is a world within a world where many artists, writers, and philosophers have come seeking solace and inspiration. We count ourselves among those who have found exactly that and are joyful to be returning there very soon with like-minded souls.
Upon your return home to Abbots Grange after a leisurely day on the go, or if you're staying in and writing for the day, afternoon tea will be served in the Great Hall or gardens (weather permitting) daily. You'll likely have lunch or supper in town, and in the evenings, we'll gather in the Great Hall, with its roaring log fire and cozy couches, for an opportunity to share our writing in comfort and intimacy.
Cotswolds day trip
We wouldn't bring you to the Cotswolds without actually seeing the Cotswolds. While we're not sure you'll take one step farther from home than you've ever been, we'll make sure you see Stow-on-the-Wold where you won't even need to speak "friend" in Elvish to enter a famous door, Moreton in Marsh where we you can say you dined at The Bell Inn, said to be inspiration for the Prancing Pony, and Stratford- upon-Avon, the birthplace of The Bard, none other than William Shakespeare.
Those highlights provide a focal point, but it's the quiet majesty of these towns that lure us, as they've done for millions of people over the centuries—and again we'll remind you, that's a major reason why we're going in March and April, before the tourists remember it's there—all the better to ponder a menu, or your work in progress, in relative peace.
---
Accommodations at the Abbots Grange
Although we've taken Go and Write! retreats to castles, villas, and island hideaways, Abbots Grange is easily our most luxurious venue yet. All of the rooms are well-appointed and impressive, and they're arranged into two price categories based on the venue's recommendation. See pricing details below.
There are three rooms left for our April retreat: the Sargent Heritage Room, the Abbots Chambers, and the Elizabethan Suite.
The Heritage Rooms: Millet, Monet, Morris, and Sargent
Each of the spacious, lavish, and individually-designed Heritage Rooms come with solid oak four poster beds dressed with a canopy and the finest Egyptian cotton sheets, seating areas, flat screen televisions and Wi-Fi, adjustable lighting, fluffy bathrobes, and welcome trays with tea and coffee making facilities. We've borrowed the descriptions below from the Abbots Grange website.
Millet
Named after Francis Millet, the renowned American artist and previous owner of Abbots Grange who died on the Titanic, this en-suite room features an impressive barrel-vaulted ceiling and triple aspect over the grounds and Cotswold hills beyond.
The Millet is bright and spacious, offering a King-sized four-poster bed, private seating area, and a fluffy bathrobe. There's also a window seat for enjoying the in-room welcome tray with tea and coffee making facilities.
---
Monet
Named after the French artist Claude Monet (another regular at Abbots Grange), this superbly proportioned room—with separate bathroom—boasts a 10 foot wide, feature window overlooking the grounds and formal gardens. While this room does not have an ensuite bathroom, the Monet bathroom is private and just across the corridor (see layout illustration).
The Monet has a gorgeous, King-sized four-poster bed with canopy, a writing desk and seating area, and a fluffy bathrobe. There's also a window seat for enjoying the tea and coffee making facilities.
---
Morris
Named after William Morris, who supervised the restoration of Abbots Grange by Millet, this en-suite room is beautifully proportioned with double aspect and impressive, walk in Travertine wet room.
---
Sargent – This room is still available for the April retreat
Named after renowned impressionist artist John Singer Sargent—a regular visitor to Abbots Grange—this delightful, double aspect en-suite room overlooks the croquet lawn and gardens.
Learn more about the Abbots Grange Heritage Rooms.
The Suites: Abbot's Chambers, Elizabethan Suite, Carriage Room, and Coach House Suite
Abbots Grange Manor House is one of Britain's best preserved medieval, monastic manor houses. The venue has won several hospitality awards, and it shows in their extraordinary, luxurious suites.
Abbot's Chambers –

This room is still available for the April retreat
The Abbot's private chambers, very generously proportioned, where spectacular monastic medieval architecture blends with modern day comforts. With a 25 foot high vaulted ceiling, ancient oak beams, and huge open fireplace, the Abbot's Chambers is a celebration of medieval craftsmanship.
Learn more about the Abbot's Chambers.
---
Elizabethan Suite –

This room is still available for the April retreat
Leading directly off the medieval Great Hall and up an ancient stone stairway, you will discover the very special Elizabethan Suite, one of the most atmospheric and romantic suites in England.
If walls in this part of the building could talk, they would have tales to tell stretching back over 700 years of England's historic past. In more recent times, when renowned artist Francis Millet restored Abbots Grange in the mid-1880s, the Elizabethan Parlour became his favourite room—it was here that he laboured over so many of his finest oil paintings, artworks and sketches.
Note: The stone stairway leading up to the Elizabethan Suite, while not steep or long, requires care due to the unusual step arrangement and original rope hand-rail and is not recommended for individuals with walking difficulties.
Learn more about the Elizabethan Suite.
---
Coach House Suite
A few steps from the main house you'll find the beautiful Coach House Suite. This private suite occupies the whole of the first floor, with 20 foot high vaulted ceiling, a King-sized four-poster bed, and a Romeo and Juliet balcony with unrestricted quadruple aspect views out over the grounds and Cotswolds hills.
Designed for privacy, the Coach House Suite, with its exposed timbers and Cotswold stone, has an open plan with separate lounge and bedroom areas and an in-room, duo-bath. Breakfast is served in the main house, where you'll also have access to the Great Hall and Pulpit Bar.
Learn more about the Coach House Suite.
---
Carriage Room
Privacy and luxury with the best views, and just steps away from the main house, this ground floor accommodation has unrestricted, double aspect views over the Cotswold hills and the advantage of its own private outdoor patio.
A sumptuous King-sized four-poster bed, a drench shower, and indoor and outdoor seating areas complete this extraordinarily well-appointed ground floor accommodation. Breakfast is served in the main house, where you'll also have access to the Great Hall and Pulpit Bar.
Learn more about the Carriage Room.
---
Back to London
"O Good night, good night! Parting is such sweet sorrow."
(Bonus points if you can identify which Shakespeare character utters those pained words.)
Finally, after our sojourn in the Cotswolds, we'll return to London for one last night in England. Along the way, we'll divert to the exquisite town of Bath, famous for its Roman baths and temple going back to 2nd century BC. Jane Austen lived there from 1801-1806 and set two novels, Persuasion and Northanger Abbey in Bath. While we won't have time to write a novel here, you can take some notes as you wander, take a short tour with the group, or have lunch.
Then, it's on to London, which might feel like a pity, except for the fact that it's London. You'll have one last evening to do whatever you please and join us for a farewell supper at The Mad Hatter. Tea will be optional.
Join us on our next adventure.
Sure, you can write anywhere, but you can also write in the Cotswolds and London, maybe a little in Bath and Oxford, too. Be inspired by William Shakespeare's place of birth, Jane Austen's place of habitation, and a country that honours its writers as if they were gods and goddesses.
On this retreat, you won't find expectations of daily word counts, but you will find plenty of encouragement. Like something out of Canterbury Tales, you'll find yourself among like-minded souls with hopes, aspirations, and stories to tell.
We always suggest you bring something to write on, because you really can write anywhere. Pubs, coffeehouses, park benches, or outside the house of a famous literary figure—the world is yours to write about. No one can stop you. It's up to you to value your own time, which sometimes will mean saying, "Not today" to the gods of distraction. Other times, it will mean going down the rabbit hole.
Come with us, then, on a tour of England, where time dissolves, the white rabbit beckons, and the mad tea parties go on for days.
Go!
5 nights at the Mad Hatter Hotel, central London
Stopover at Oxford with optional group tour
5 nights at the Abbots Grange
9 breakfasts; second breakfast is up to you. Elevenses, same.
Two suppers
Walking tour of London
Day tour of the Cotswolds
Time to explore the village of Broadway, a 2-minute walk from Abbots Grange
Stopover at Bath with optional group tour of the Roman Baths
Land transfers
Write!
Professional, honest, and thoughtful commentary on your pre-submitted writing sample from Dr. Gerard Collins, an award-winning author and university professor of English language and literature—helpful for all writing levels.
Writing prompts tailored for your project, if you submit a writing sample in advance.
Two writing workshops.
Two one-on-one meetings with Gerard and regular check-ins throughout the retreat.
Group readings, daily writing prompts, and discussions with Gerard and other writers.
Ample time and opportunity for writing, inspiration, idea-gathering, and solitude.
---
COST
Join us from March 18-28 or April 10-20, 2023. Please note that the rooms at the Mad Hatter hotel are all comparable, but accommodations at Abbots Grange have been split into two categories as per the venue's recommendation.
Retreat including a Heritage Room at Abbots Grange
Double: $4,995 CAD (approx. $3,725 US) per person, including tax.
Single: $6,995 CAD (approx. $5,220 US) per person, including tax.
See Heritage Rooms.
Retreat including a Luxury Suite at Abbots Grange
Double: $5,995 CAD (approx. $4,475 US) per person, including tax.
Single: $7,995 CAD (approx. $5,965 US) per person, including tax.
See Luxury Suites: Abbot's Chambers, Elizabethan Suite, Coach House Suite, Carriage Room
Contact us for more information and to reserve your spot.
Contact Us
Note: All double rooms at Abbots Grange have one bed, not two. Airfare is not included and travellers are responsible for arranging their own flights. The number of spots available on this retreat is limited due to the small number of rooms at Abbots Grange and our desire to offer an intimate experience to our writers and travellers.
Costs are in Canadian dollars, taxes included, land only. We have estimated US prices for US customers' convenience only – the prices are based on conversions made with the information we had on-hand at the time and are non-binding.
A non-refundable deposit of $1,200 CAD per person is due when you reserve your space. For the March retreat, final payment is due February 10, 2023; for the April retreat, final payment is due March 3, 2023.
Note: Rates shown do not include credit card or PayPal fees. The credit card processing charges 2.9% per transaction, and PayPal charges 2.9% for Canadians and 3.7% for Americans; for those paying by credit card or PayPal, we will have to add this fee. For Canadians, we're able to offer an e-transfer option to save you the processing fee. Contact us for more information.
A few notes
You will be required to climb stairs and walk over uneven ground at certain points during the retreat, and Abbots Grange requires you to be able to climb stairs to your room unless you reserve the Carriage Room.
Travel insurance is highly recommended.
A valid passport is required—you could be turned away at the airport if your passport is within a few months of expiry, so be sure to check your passport expiry date against what the host country will allow. This almost happened to us—it was only by the grace of the attendant that we were allowed to board the plane!
Travellers are responsible to research the implications of COVID-19 on travel restrictions at home and abroad before and at the time of travel. Ensure you have everything you need so you aren't turned away from establishments or airports.
All participants are required to review our Expectations, Rules and Refunds page and acknowledge agreement with the contents before registering for a Go and Write! retreat.