Christmastime in the Old Country: Ireland, December 3-16, 2023
There's no place like Ireland for the holidays! Join us from December 3-16, 2023, when Go and Write! heads to the Emerald Isle for 13 nights, 14 days.
Christmas in Ireland is every bit as magical as you might think; it might even be Ireland at her best. We'll start off with a week in a West Coast castle overlooking a cozy village on the bay, then spend three nights at a glorious old hotel in the heart of Galway, and another three nights at a charming hotel in the centre of Dublin when all the old country is decked out in its festive finest.
And along the way, as with all Go and Write! retreats, the pull will be toward writing. The Irish take their writers seriously—as evidenced by the painting hung over the hearth at Abbeyglen Castle in the photo above—and so do we.
Come away, O human child!
To the waters and the wild
With a faery, hand in hand,
For the world's more full of weeping
Than you can understand.
~ W.B. Yeats
We'll have inspiring writing sessions, a chance to discuss your work with Dr. Gerard Collins, evening readings, and, most important of all, dedicated time focused on your own writing. Sure, you can write anywhere, but you can also write in a cozy castle, perched on a hill overlooking a Christmas card town on the west coast of Ireland.
We've experienced the Christmas season in Ireland for ourselves, and we want to share it with you this year—unless you've been there before at that time of year, you've never experienced anything like it. From the west to the east, from the quiet of Clifden to the bustle of Galway and the history of Dublin, you'll see Ireland as it needs to be seen at least once in a lifetime. And no one has more stories to tell around a fireplace in a pub than the writers who join us on a Go and Write! adventure, this time with a little Christmas flair.
Costs start at $5,295 CAD per person, taxes included. See below for pricing details.
Update! We have just had a space open up on this retreat, so reach out to us as soon as possible if you're interested in joining us on this writing adventure.
We're actively working on our 2024 lineup and will be announcing these retreats as we get each one finalized, so sign up for our newsletter to be in the know early.
---
About your hosts
Go and Write! with Dr. Gerard Collins and Janie Simpson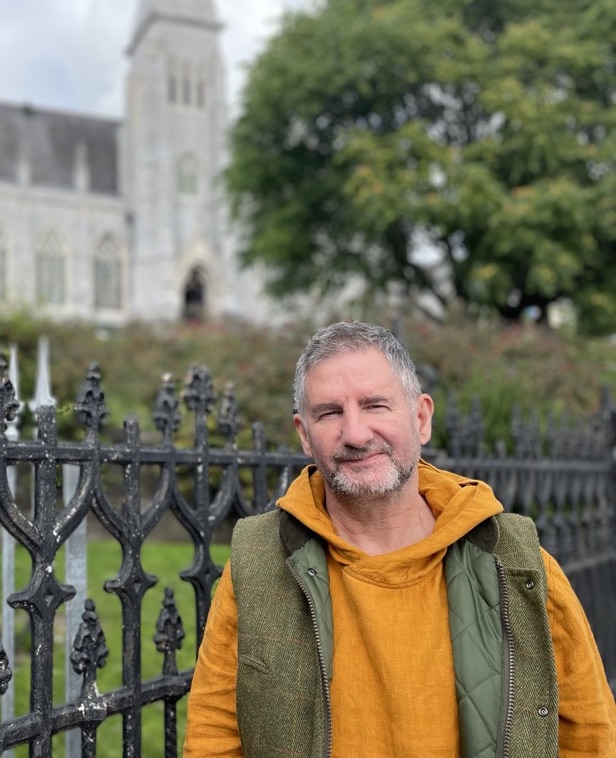 Kind words from one of our recent retreat participants:
"I am beginning to reflect on the joy the trip has brought me… The tenderness and care you showed us was so evident in the choices of lodging, the comfortable bus rides, and the knowledgeable guides. It was your day-to-day presence, while checking on all of us, that was especially meaningful. I am not certain I can explain the impact, but I feel it has awakened a longing in me and an understanding of something deeper that was not previously there."
~ Ann K., Go and Write! alumnus
---
Abbeyglen Castle in Clifden, Connemara
On day one, our group will gather at the Dublin airport in the late morning and travel along the Wild Atlantic Way by private coach to the gorgeous Abbeyglen Castle in Clifden, located on the famed Sky Road. 
The comfort and warmth of Abbeyglen Castle ­­will set the stage for writing, especially during the quieter December days. In advance of the retreat, you're invited to submit a piece of writing on which Gerard provides written commentary—this piece also forms the basis for one-on-one discussions about your writing goals and challenges. During our week at the castle, we'll enjoy inspiring writing sessions and group discussions, share magical evening readings, and get focused with stretches of dedicated, quiet writing time.
While you'll no doubt find your upgraded Superior room a great spot for writing, you'll also find plenty of cozy spots around the castle, such as in the Castle Pub near the fire, in the drawing room with lots of natural light and comfortable furniture, or in the lounge that is reserved for our group for the duration of the retreat.
After years of offering writing retreats, one thing we've discovered is the value of a journal. Taking a moment on the coach, at a pub, or in your room at the end of a day to capture your thoughts and impressions allows you to cement your experiences in a way that photographs can't—the smells, motions, sounds that can only be caught and reflected through the written word.
The Castle Pub offers an à la carte lunch each day by the peat fire, if you wish. After a morning of writing or wandering in the cool December air—though assuredly more temperate than some North American climates—we can recommend the Castle Pub's brown bread and soup with a pint of Guinness, the seafood chowder, or any other number of dishes that warm your insides and stir your imagination. Locals sometimes come to the castle for lunch, too, which you know is a sign of a good place to eat. Or you might choose to have lunch in town, as there are many great places to enjoy a bite.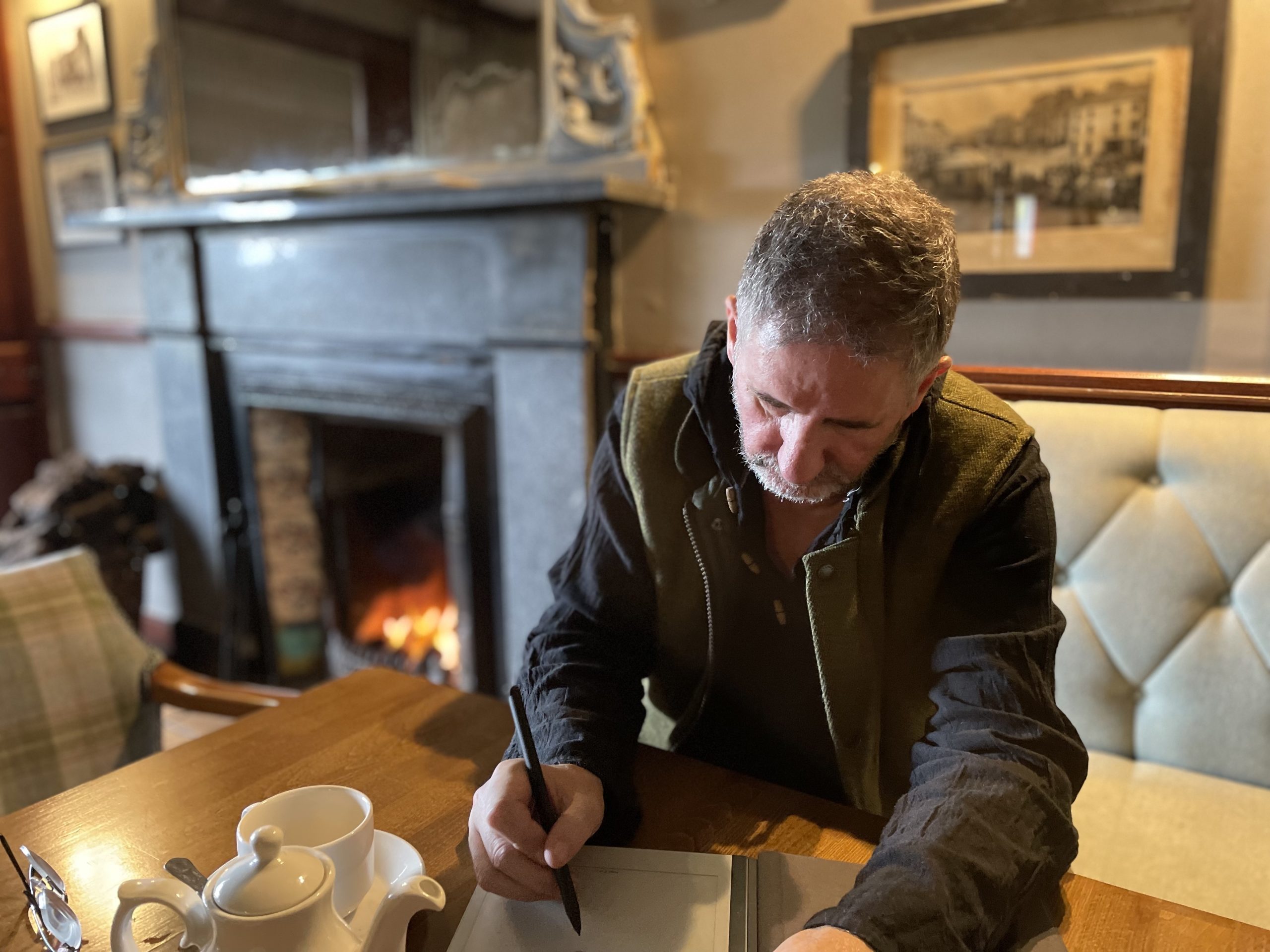 We'll start each day with a full Irish breakfast and have supper each evening, both meals served in the stunning dining room that overlooks Clifden Bay and the famous hills and valleys of Connemara. Our meals at the Abbeyglen have been among our very favourite of all those we've enjoyed in Europe and the UK. And you'll find the service at the Abbeyglen second-to-none.
It goes without saying that the castle will be decked out in its Christmas finest, boasting a great holiday energy—from quiet to jolly, with the difference being, quite literally, like day and night. Each evening after supper, there's live music in the pub with an emphasis, of course, on Irish traditional music—although, that time of year, the occasional Christmas or Yule tune is likely to find its way into the mix.

On any given night, you can choose to listen (and join in yourself!) in the cozy atmosphere of the Castle Pub, or you can find a quiet spot to write. During our visit last fall, we found that the music and atmosphere were so enjoyable, we looked forward to it each night; the music and companionship were a pleasant break from the day's writing, as well as a fun way to meet fellow travelers.
There's a lot more than meets to the eye at Abbeyglen Castle, which boasts a seating area and walking trail just outside, as well as a spa treatment room where you can relax, unwind, and pamper yourself.
For a lovely sense of Abbeyglen Castle and its location in relation to the town of Clifden, click on the video below:
Explore the town of Clifden, the unofficial capital of Connemara
Difficult as it might be to leave the castle and grounds, the town of Clifden is only a few minutes' stroll or short taxi ride away, past the patio with the large fountain and across the back lawn of the peaceful castle grounds—from there, the road that takes you into the village overlooking the bay is about four minutes at a leisurely walking pace. Clifden, though a fairly small town, is known as the "capital of Connemara," and is renowned for its strong connection to the arts as well as its many pubs and restaurants and quaint shops—including the famous Aran Islands Knitwear, made even more famous for outfitting the actors in Oscar-nominated Banshees of Inisherin.
The town of Clifden truly knows how to celebrate the season, with songs, theatre, and, of course, the shop windows, Christmas trees, and street lamps aglow. Watch the Christmas in Clifden website for celebrations in the town as the time for our retreat draws closer.
Clifden in the Christmas season is a combination of gorgeous and quaint, with just enough bustle to please the shoppers and just enough quiet to encourage you to sit by a fire or big picture window, to write or just think for a while as the world passes you by.
For us, the biggest draw of Abbeyglen Castle and Clifden itself is that, when we visited last year, we felt inspired the entire time and did a lot of writing there, both in the castle and the town's pubs and cafes. One of our favourites was Lowry's, voted Best Traditional Bar in 2015, 2018, and 2019 by Ireland's prestigious National Hospitality Awards. The afternoons are quiet for writing, and if you return in the evening, you're likely to find live Irish music.
While we're at the Abbeyglen Castle for the week, we'll embark on a neat little tour of the 19th century Dan O'Hara Homestead and see a turf-cutting demonstration—this traditional manner of heating one's home continues to this day in the many pubs, inns, and abodes that keep to the old ways.
Since we'll be out of the castle for a spell, we'll also take a drive on the famous Sky Road and visit the impressive neo-gothic castle, Kylemore Abbey, with its long history of romance and ghost stories, including the tale of the white horse that rises from the mists of the lake once every seven years. You'll find that Ireland and ghost stories, fairy rings, and banshees go hand-in-hand, all the more satisfying when coupled with tales of Christmases long, long ago.
Writing at the Abbeyglen Castle—bringing it back in focus
We're spending a full week at the Abbeyglen Castle. During this time, while we'll take a day tour and do some shopping in the village, we'll also have inspiring group writing sessions, optional daily writing prompts, individual chats about our writing with Gerard, and intimate readings on some evenings. Gerard and Janie will also be gently encouraging everyone to take the time and space they need to settle into writing.
While we schedule several group events, readings, and many opportunities to socialize during our retreats (sometimes even with music and song), we also regularly emphasize the importance of respecting others' need for space, quiet, and alone time, even in our venues' common areas. This encouragement—to recognize and respect boundaries, even as we get to know each other better and develop bonds—is deliberate on our part.
More than once during this retreat, you're certain to hear Gerard say, "Only writing is writing." As professional writers ourselves, we get it. You're here to write, and we take it as our serious responsibility to help you find the headspace you need to make it work.
---
Journey to Galway, via Cong
After our week in Clifden, we'll bid goodbye to the Abbeyglen Castle and make our way to Galway, with a stop at the gorgeous riverside village of Cong, most recognizable as the setting for the John Wayne movie The Quiet Man.
To Go and Write! alumni, Cong is best known as that beautiful little spot with the colourful old row houses, the river running through the town, and Ashford Castle. The village, among other claims to fame, has ties to Oscar Wilde—who often wrote about his experiences in Cong and frequently returned to the area throughout his life—some great pubs for a quick lunch, and charming shops where you'll be sure to find some gifts for your loved ones or treats for yourself.
In the late afternoon, we'll land at our home for the next three days, The Hardiman, the grand hotel located at Eyre Square in the heart of downtown Galway, a lively hub of Irish culture and home of the Galway Christmas Market, a breathtaking contrast to the quiet week in Clifden.
Galway has maintained its small-city feel with myriad shops and some of the finest old pubs in all of Ireland, where you can sit, write, or socialize with friends as you watch the world go by, and at Christmastime, they go all out to get you into the spirit of the season.
Galway will provide an exhilarating few days, so you'll want to pace yourself and seek out places to do some writing. A short walk from The Hardiman, you'll find scores of pubs and coffee shops for just that purpose. We'll point out some of them—including The King's Head (built in the 13th century), An Púcán just down the street, and one we've dubbed "The Harry Potter pub"—The Quays.
Another great feature of Galway is the live music on the cobblestone streets, where talented buskers entertain the passersby with a song or a dance, sometimes both.
Meanwhile, our favourite spot for music and a pint while we're in Galway is The Crane Bar, one of a very few pubs in Ireland with nightly traditional music sessions, which, we know from experience, carry something a little extra special at Christmastime. You just never know when you're about to enjoy a great musical moment you'll remember for the rest of your days. It wouldn't be a stretch to say that the pub scene in Galway is probably the best in all of Ireland. And if you don't hear "Galway Girl" at least once, you just need to be spend more time in the pubs.
On our second day in Galway, we'll take our private coach on a journey to the majestic Cliffs of Moher, with a stop at the ancient portal tomb, Poulnabrone, the home of fairy trees and the otherworldly landscape of the Burren. We'll also stop to visit the Brigid's Well outside of Galway, which, reportedly, was blessed by St. Brigid herself.
After a day tour like this one, it's important to capture your thoughts in your journal while the magic of the day is still fresh. And if you're too tired that evening, you'll have the final day in Galway all to yourself, to sit in the beautiful Hardiman lounge while you write, to wander the streets, do some shopping, and jot down your impressions over a meal.
Off to Dublin Town
Maybe you've heard about the "oldest pub in Ireland" debate? Well, on the eleventh day of our tour, you'll have a chance to decide for yourself as we make our way to Dublin with a stop at Sean's Bar of Athlone in Westmeath. Here you'll be treated to a libation while you listen to tales from a local storyteller.
When you look at the description on their website, you'll see why we're anticipating this pint more than any other we've had in recent, or distant, memory: "Sean's Bar, with its woodchip-covered floor and walls made of wattle and wicker interwoven with horse hair and clay, has been in business since the Dark Ages. Located near to the ruins of a 12th century Norman Castle, it is the oldest extant public house in Ireland, a claim officially certified by Guinness World Records in 2004. But many, including the current owners and plenty of Athlone regulars and respected Irish historians, also believe it to be the oldest in the world."
We've not yet visited Sean's Bar ourselves, but this time we're covering all the bases and leaving nothing to chance, particularly since Sean's has served up ale to its patrons since 900 A.D., which predates the rise and fall of the Vikings in Ireland. In fact, most authorities suggest that Sean's might well be the oldest pub in the world. We can't wait to experience this historic venue for the first time with you.
After our stop, we'll climb back aboard our coach and be on our way to the bustling heart of Dublin, where we'll stay at Buswells Hotel right in the centre of everything.
Dublin will be all lit up for the holidays, with buskers on Grafton Street, where the shopping, music, and atmosphere will be electric.
There'll be no shortage of things to do in Dublin—in fact, on our first night there, we'll have a private concert with the internationally-acclaimed Niamh Parsons, one of Ireland's most beloved traditional folk singers.
After we had the unforgettable pleasure of hearing Niamh's gorgeous voice in person a few years ago, we struck up a friendship and eventually asked if we could hire her to put on a private show for us one evening during our retreat in 2022. Much to our everlasting delight and appreciation, she and her supremely talented partner, guitarist Graham Dunne, said, "Yes!"—our group adored them.
While Niamh Parsons alone is worth a trip across the ocean, this intimate event requires no commute for our Go and Write! travellers, as we'll have her traditional songs and stories all to ourselves for that special evening. Niamh has performed at nearly every prestigious international folk festival on either side of the Atlantic, for crowds of thousands, and we are so thankful that she and Graham have agreed to perform for our group, once again. Here she is performing Angel Gabriel.
Day trip to Newgrange
On our second day in Dublin, we'll travel with historian and storyteller Mary Gibbons, another friend of Go and Write!, on a visit to Newgrange, a UNESCO World Heritage Site that's older than Stonehenge and the Pyramids of Giza.
Newgrange, the jewel in the crown of Ireland's Ancient East, is a mysterious, ancient passage tomb in County Meath across from the River Boyne. On the journey to the site, Mary will share the history of the region and take us to visit the mythical Hill of Tara, the traditional seat of Ireland's High Kings.
Many members of the 2022 group told us their day at Newgrange was not only their favourite part of the retreat, but that it was a spiritual experience they found quite moving. And best of all, we'll be there close to the winter solstice, the celestial event that Newgrange was built to celebrate.
Exploring Dublin
We built an extra day into the retreat so you can take in some of the sights that Dublin has to offer. There's the grand old Dublin Castle, the seat of Irish government, extra-special and dressed to the nines at Christmastime.
We also encourage you to take a tour of the National Museum of Ireland where "the Bog People" rest, and venerable Trinity College, which houses one of Ireland's finest national treasures, the Book of Kells, an ancient masterwork of calligraphy and illumination, although that's assuming they've finished their renovations at the site. There's also the Dublin Writers' Museum, and even more impressive, the new Museum of Literature Ireland (MoLI), where you can take a tour and perhaps luck into a reading. Places like these often have special exhibits around the holidays, and, of course, a lot of Irish authors and musicians come home for the holidays and make appearances around the old hometown—while there are no guarantees, it's something to watch for.
Check out this article about the museum, and be sure to click on the image of the camera on the first photo of James Joyce to cycle through the series of photos. Literature comes to life at MoLI in a series of immersive exhibitions that pay homage to Ireland's finest writers, from James Joyce to Colm Tóibín, including a special focus on Ireland's women writers, such as Edna O'Brien and Anne Enright.
From the Museum of Literature Ireland, you can cross over to fabled St. Stephen's Green, which Joyce wrote about so hauntingly, and find many a shop or restaurant, or perhaps an old pub at which to grab a pint and write. Many of those same pubs serve up live music, including renowned sessions at Dublin's oldest pub, The Brazen Head, built in 1198, O'Donoghue's , The Cobblestone, and numerous others.
Dublin's a unique and ancient city—it's not unusual to slake your thirst and have a bite while steeped in history. Take a tour of the Guinness Storehouse, where you can take a tour and have a meal at the in-house restaurant with one of the best views of Dublin. Maybe take a horse and carriage ride from Guinness to the Brazen Head, as we did last fall.
You won't mind the cold when there are so many great shops and pubs—besides the afore-mentioned Brazen Head, another favourite of ours is The Stag's Head, where you can sit where the famous rebel and orchestrator of the Republic of Ireland, Michael Collins used to cool his heels now and then.
We bring our writing journals everywhere so we can capture these once-in-a-lifetime moments on the spot. You'll want to invest in a journal of your own for this adventure, and plan to bring it wherever you go. There will be many opportunities to sketch with words, and the immediacy encourages nuance and detail in your writing. There are some moments and characters that can only be captured vividly on the coach, in the pub, or warming yourself by the crackling hearth in the castle.
Time to say goodbye
This last day in Dublin is designed for wandering on your own, visiting the places you most want to see or just taking in the Christmas vibe that will have enveloped all of Ireland. Amid all the bustle, the lights and music, you'll find friendly faces in a land that has a way of making you feel good about the world.
On our very last night, we'll gather for readings and a pint, and bid a fond farewell to Dublin, Ireland, and each other—until we meet again.
Join us on our next adventure
This 14-day, Christmastime in the Old Country, retreat is designed to satisfy both your desire for adventure and your need to find time to write with as much—or as little—guidance or prompting as you want. Some of our travellers aren't writers at all, though they often travel with writers. The vast majority, though, are writers of various genres, including novelists and playwrights, screenwriters, memoirists, and poets, and are at various stages of their writing life. We get as many new or emerging writers as we get established writers who simply need time away from the daily grind to refresh their souls or kickstart their writing.
You'll travel in the company of like-minded souls, some of whom have written only a little and others who have published extensively. Go and Write! travellers, including non-writing folk, often have a tough time choosing their favourite part of our retreats, but the lasting friendships and memorable moments that could only happen when a bunch of writers go traveling together top most lists.
Go!
7 nights at Abbeyglen Castle hotel in Clifden (7 breakfasts and 7 suppers included)
3 nights at The Hardiman hotel in Galway (3 breakfasts included)
3 nights at Buswell's Hotel in Dublin
Day trip including Dan O'Hara's Farm and Kylemore Abbey
Visit to village of Cong
Day trip to Cliffs of Moher, Poulnabrone Dolmen, and The Burren
Private concert by acclaimed Irish traditional singer Niamh Parsons
Guided day trip to Newgrange and the Hill of Tara with historian Mary Gibbons
Coach service from award-winning, family-owned and operated Donoghues of Galway
Write!
Creative and inspiring writing sessions
Opportunities to chat one-on-one with Dr. Gerard Collins, writer-in-residence
Professional, honest, and thoughtful commentary on your pre-submitted writing sample from an award-winning author and university educator—helpful regardless of your writing level
Optional personalized writing prompts based on your pre-submitted writing sample
Access to writer-in-residence throughout the 14-day retreat
The company of other writers
Group readings
Ample time and opportunity for writing, idea-gathering, and solitude
---
Cost
Space will be limited on this retreat as we had a long waiting list for our trip last fall, and we're also limiting our numbers to approximately 16 additional participants.
There is NOT a surcharge for single travellers. The true cost of the retreat is the single price, but if you share your room with someone else, you also split the room costs, which lowers the price per person.
Double: $5,295 CAD per person, taxes included
Single: $6,395 CAD per person, taxes included
Contact us for more information and to reserve your spot.
Contact Us
Airfare is not included and travellers are responsible for arranging their own flights. The number of spots available on this retreat is limited to approximately 16 participants due to our desire to offer an intimate experience to our writers and travellers.
Costs are in Canadian dollars, taxes included, land only. We have estimated US prices for US customers' convenience only—the prices are based on conversions made with the information we had on-hand at the time and are non-binding.
A non-refundable deposit of $1,200 CAD per person is due when you reserve your space, and final payments are due August 18, 2023. If you sign up after this date, you will need to pay the full balance before registration is confirmed.
Note: Rates shown do not include credit card or PayPal fees. Credit card processing charges 2.9% per transaction, and PayPal charges 2.9% for Canadians and 3.7% for Americans; for those paying by credit card or PayPal, we will have to add these fees, and the fee is non-refundable due to new rules imposed by the providers. 
Some people choose to pay by credit card if it has an associated trip insurance policy. It is your responsibility to research and understand details around any insurance coverage associated with your credit card. Visit our Expectations, Rules, and Refunds page for more information about the importance of trip insurance.
For Canadians, we're able to offer an e-transfer option to save you bank or credit-card processing fees. For registrants from the US and overseas, we also accept international bank transfers; please research the processing fees charged by your bank as you're responsible to pay those fees.
Contact us for more information.
A few additional notes
All participants are required to review our Expectations, Rules and Refunds page and acknowledge agreement with the contents before registering for a Go and Write! retreat. 
You're required to arrange for your own travel cancellation, interruption, and health insurance. Due to contractual obligations with suppliers, we cannot make exceptions to the cancellation policy, regardless of the reason for cancellation.
A valid passport is also required—you could be turned away at the airport if your passport is within a few months of expiry, so be sure to check your passport expiry date against what Ireland will allow. This almost happened to us—it was only by the grace of the attendant that we were allowed to board the plane!
Travellers are responsible to research the implications of COVID-19 and other public health risks on travel restrictions at home and abroad before and at the time of travel. Ensure you have everything you need so you aren't turned away from establishments or airports.
We will be visiting historic venues and you may be required to climb stairs at certain points during the retreat; you must also manage your own luggage. We recommend only one bag + one carry-on per traveller.
Please see our Expectations, Rules and Refunds page for more information.